As the Kudos® Authorised Partner in Ireland, Gift Innovations offers set-up, training and support for successful Kudos® implementation.
Using Social to your advantage
Kudos® harnesses the best features of social media with the peace of mind of a secure and private system. The nature of this social recognition platform encourages high recognition frequency and unlimited recipients with clear visibility of recognition given. There is an emphasis on all employees being recognised across multiple departments and locations.
Thanks aligned to core values
Encourage employees to recognise one another for actions and qualities which align with your core values. Kudos® gives your organisation an online, branded central hub for celebrating value-based, employee achievements. Kudos® has the right balance of features needed to consistently promote values to your employees.
Optional points and rewards
Kudos® is a recognition first solution with optional rewards. The Custom Rewards feature allows you to create an internal rewards catalogue focused on the products, services and experiences that matter to your team. Gift Innovations will advise you on the most suitable rewards and tax-efficient solutions.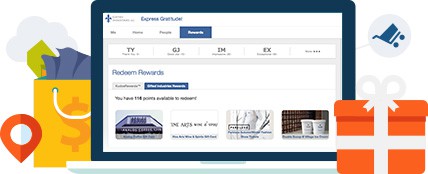 Cloud-based for simplicity, security and scalability
Kudos® is a cloud-based solution making recognition simple, scalable, secure and affordable. Real time reports track and measure data generated by Kudos®, which measures engagement. Kudos integrates easily with other productivity tools, helping you to build a sharing, collaborative community.