Service Awards are a traditional and long-standing form of recognition. They continue to be used by companies and their popularity remains high for a number of reasons:
They are embedded in a company's tradition
Implemention is easier because service awards link to years of service and not to more strategic criteria
They are tax efficient awards and additional tax exemptions apply to Long Service Awards – more about this below
They support the retention of employees by celebrating their commitment
The nature and value of Service Awards
Service Awards are a highly valued component of a company's overall employee recognition effort. They are given to individuals for their service over a number of years. They are usually celebrated every five years of an employee's service e.g. 5, 10, 15 years etc. When the length of service reaches 20 years or more, Revenue (in Ireland) offers additional tax exemptions, which supports this tradition.
Service Awards are special career milestones, not to be confused with performance incentives or compensation. They also help employees to develop a deeper connection with a company – and have a positive impact on the company as a whole. Aim to give the recipient something they would not justify purchasing for themselves, such as a tangible gift. In this way, their Service Award will remind them of a company's gesture and encourage them to speak about their accomplishments into the future.
Service Award: the entitlement trap
It is unfortunate, however, that Service Awards can sometimes slip into being viewed as an entitlement: 'I have been here for five years, therefore, I am entitled to my award'. Service Awards should always be promoted as a gift from a company to an employee given to celebrate their service. If they are allowed to become an entitlement, they become just another part of an employee's general compensation package. If this happens, the meaning is lost and the opportunity for a company to take a moment to celebrate, recognise and appreciate its employee is also lost. Equally, employees miss out on being appreciated for their service if the award is viewed as an entitlement. It is, therefore, important to think about the impression that the award gives.
What makes a good Service Award?
A good Service Award is a symbol of appreciation, which continues to speak long after it has been awarded. This is amplified if the award takes the form of a tangible gift for a number of reasons. First, the connection between the company and the award is stronger when the award is tangible. Second, there is no monetary value associated with tangible gifts. Third, while vouchers are popular awards, it is important to consider that some are never redeemed, and many are never redeemed in full. Finally, Revenue offers additional tax exemptions, which only apply to tangible gifts for 20 years  Long Service Awards.
Tax-free Service Awards 
Revenue allows one small non-cash benefit per employee, per annum, up to the value of €500. (PAYE, PRSI or USI do not need to be applied to the benefit). Only one such benefit may be given to an employee in the tax year. Revenue also offers additional tax relief on long service awards for 20, 25, 30, 35 & 40 years of service. Awards made in recognition of long service must take the form of tangible gifts to qualify for this tax relief.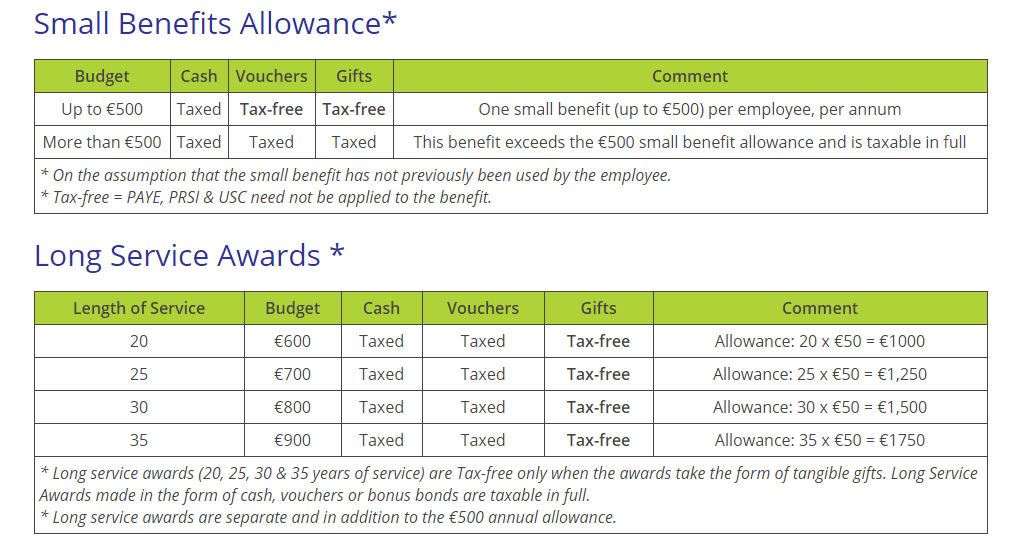 Service Awards and Millennials
But what about Millennials: will they be around long enough to collect an award? Companies need to carefully consider their recognition strategy and especially how it appeals to Millennials. Millennials respond well to instant and frequent recognition. In a study by Deloitte, Millennials who intended to remain with their company for at least five years report a positive culture and a focus on individual need. But how do you care for this group who, by 2020 will form 50% of the workforce? In addition to service awards, companies need to consider day-to-recognition, for the benefit of the workforce in general, and for Millennials in particular.
Social recognition – given between milestones
While Service Awards are milestone awards, there is also a need for more frequent, meaningful recognition. This can be addressed using social recognition. It harnesses the power of social media to drive company culture and increase employee engagement using instant peer-to-peer and manager-to-peer recognition. Social recognition builds an engaged community of peers. One popular SaaS solution is that provided by Kudos, which comes with additional communications features, and powerful reporting metrics which measure engagement.
5 Rules of Service Awards
Finally, as we all like a good list, the following will help turn Service Awards from entitlements into truly memorable celebrations, which put employees centre stage:
Rule 1: Plan to make your Service Awards remarkable occasions: design each stage of the process – publish to the company to ensure transparency
Rule 2: Make sure that the manager/supervisor of every recipient has a central role – their recognition is of paramount importance to recipients
Rule 3: Consider the Service Awards themselves and the impact they will have on recipients – avoid allowing them to be viewed as an entitlement
Rule 4: Leverage the event by acknowledging Service Awards on your social recognition platform and encourage all employees to join in the celebrations
Rule 5: Senior management can support Service Awards by adding their recognition in the form of a personalised letter, certificate, speech or newsletter posted to the company social recognition platform
Service Awards are alive and kicking in the 21st century and provide a wonderful opportunity for a company to celebrate important milestones for their employees. Ultimately, what benefits the employee benefits the organisation and, in turn, benefits your customers.
See further information on our Service Awards solutions, where you can request a RewardNet® demo.
Paul Gadie PhD