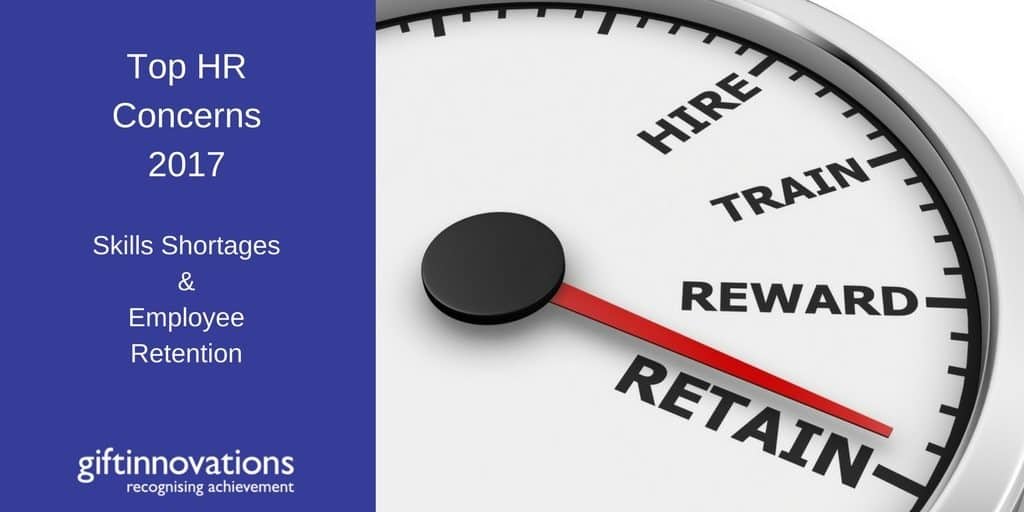 With skills shortages and employee retention cited as top HR concerns in 2017, CIPD Ireland has conducted some useful, timely research into these issues and other related issues. Though both are important issues in their own right, they also have a bearing on overall employee engagement and recognition.
Skills Shortages
Their recent research project (CIPD HR Practices in Ireland Survey 2017) looked at the last two years with a view to making some prediction for the next two years. In the previous twelve months, 78% of respondents had experienced skills shortages. These occurred especially in the areas of operations and IT. In addition, falling levels of unemployment together with the 'challenges associated with attracting and retaining talent, organisations will have to invest in creative ways to plan for, and address, emerging skills gaps into the future.'
Employee Retention – Employee Turnover
The same research project commented on employee turnover and the issue of staff retention. 50% of respondents reported an increase in voluntary employee turnover between 2014 and 2016. 44% of participating organisations expect this increased turnover of staff to continue into the foreseeable future. While this reflects an improving labour market in Ireland, it flags the issue for Human Resource Management. It highlights that support is required from the CEO and board of directors to respond to changes in staffing needs.
Employee engagement – TOP PRIORITY  
The CIPD's research shows that employee engagement is the top priority for HR in the short term. It is encouraging that companies appreciate the importance of employee engagement and are making plans to address the issue over the coming years. Engaged employees are more likely to stay, to go the extra mile and be a great example to their colleagues.
Their research also highlights that HR needs to address other issues including the recruitment and resourcing of employees; a focus on performance management; and to have the tools to hand to change workplace culture.
How Employee Recognition helps to address Employee Retention – an example
We interviewed  Scott McCarthy, VC of Mary Browns, a food retail business in Canada. Their biggest problem was to stop trained employees from walking across the road to competitors for a small wage increase. The answer? To introduce a social recognition solution, which increased employee recognition and built a company culture of appreciation. Employee retention increased significantly and the company experienced a positive culture change.
'The issue of staff retention almost disappeared: 
78% of staff wouldn't go across the street to the competitor for higher pay'
HR Recognition and Technology
The CIPD report suggests that organisations harness the use of technology to help retain staff and address skills shortages. As the CIPD's research notes:
'Investing in technology and analytics expertise to build evidence-based workforce insights will be fundamental to HR winning its strategic voice and credibility. HR needs to support businesses to step up, build trust and create environments where people feel valued, safe and included, and where their voices are heard. There is an imperative to shape organisations that are agile and responsive, but also productive and innovative, founded on the workplace culture that HR helps to create.'
Social Recognition helps Skills Shortages and Employee Retention
One way that technology can help address these needs is by using Social Recognition software. A Social Recognition platform can quickly build recognition across an organisation's workforce. It allows individuals and teams to reach out to peers, managers – even senior managers. The technology provides real-time metrics, which assists HR to measure engagement levels. It also helps to build a workplace culture, linked to a company's vision and values. In turn, each of these builds employee engagement.
The Takeaway
Research has shown that there are two current Human Resource Management concerns: the skills shortage and problems around employee retention. Building a culture of appreciation helps to shape an organisation in which everyone feels trusted, valued and recognised. Using technology like social recognition can help organisations to address employee recognition and build a strong and safe culture. These organisations are able to retain their employees for longer, continually developing employee skill sets so that they reduce any prevailing skill shortages.