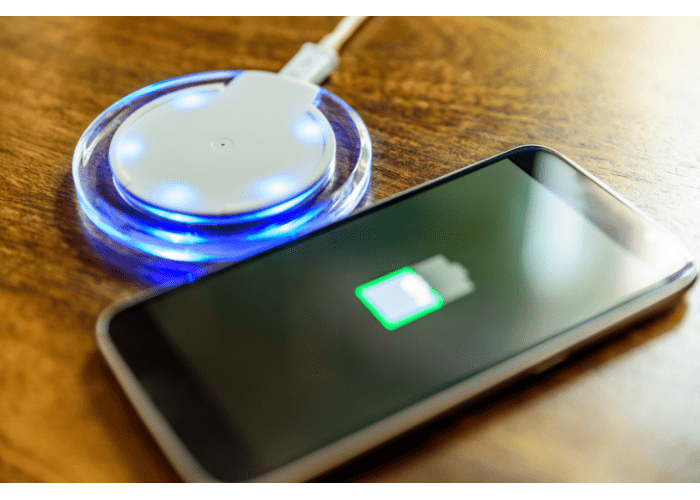 What's the one item that people value over all others? Their phone? Mobile phones have become vital to our personal and professional lives. They are rarely out of sight, so take advantage of this opportunity to promote your brand with practical Promotional Phone Accessories. They promote your company and message with every call and text. They travel with clients and employees, making life a little easier while increasing your brand awareness and brand recall.
Check out our recommended phone accessories from ultra slim power banks and car phone holders to mini speakers and phone stands. We will guide you through the branding options available.
The PXK Air Disk is a high performance, external mini hard drive, compatible with iOS and Android. Its practical, small design makes it the perfect size to fit into your pocket, as a backup for those annoying times when your phone's memory runs out. Speedy and secure transfers via WIFI allow up to seven connections at once – making it the ultimate sharing device for friends or to use during meetings. Available in 8GB, 16GB, 32GB and 64GB, and in 4 different colours, the Mini Air Disk Hard Drive is a fantastic addition to conferences and events.
PopSockets® make for a stylish and practical smartphone or tablet accessory which help to improve the overall grip and stability of your device. To use, stick to the back of your device and then expand, or "pop" the mechanism. Branded PopSockets® can also act as a stand for devices allowing for handsfree viewing or as a cable wind for storing earphones. PopSockets® can be printed with corporate logos/designs in full colour. Make your logo pop with this hot accessory.
Keep your phone, tablets and messages within reach with this handy, foldable phone stand. It has a non-slip silicone grip to hold your device in place and can be printed onto in full colour on both sides. The stand can fold flat making it perfect for direct mail campaigns. In addition, it can be supplied with a branded backing card, making your message stand out even more to potential clients.

We love our credit card power banks because they can be carried around like your other cards, so they can be easily found when needed. This type of power bank has plenty of space to advertise your brand logo and/or marketing message, accommodating full bleed printing. It comes in a gift box with an inbuilt mini USB cable and lightning adaptor (USB C coming soon 😊). Credit card power banks are ideal for charging smartphones – on the go, so you always stay connected.
This pouch is perfect for smartphones! It's made from highly resistant Lycra, making it perfect for holding your ID, keys, business cards or headphones. It sticks to the back of your device with a resistant and soft 3M adhesive. With this innovative product those small essentials are always to hand. Available in grey and black with one colour logo print.
The universal phone holder is simple, very portable and easily transferable. It features a grip which fits perfectly on car air vents. With a glossy finish and a high-quality metal frame, it is sleek but also durable. The holder has 360° rotation for full flexibility, and your phone is held securely in place with silicon brackets. Available in either a black or white body colour, with plenty of space for your logo, this practical gift presents your brand to everyone in the vehicle.
High-end, in-ear headphones with a clear and powerful sound quality comes with great features like an anti-knot cable and phone call answering button. They are the great all-round comfort buds for your ears. They also make a great giveaway to customers or clients. You can add your brand on the handy carry case, which affords great room for full colour or spot printing to the front and back.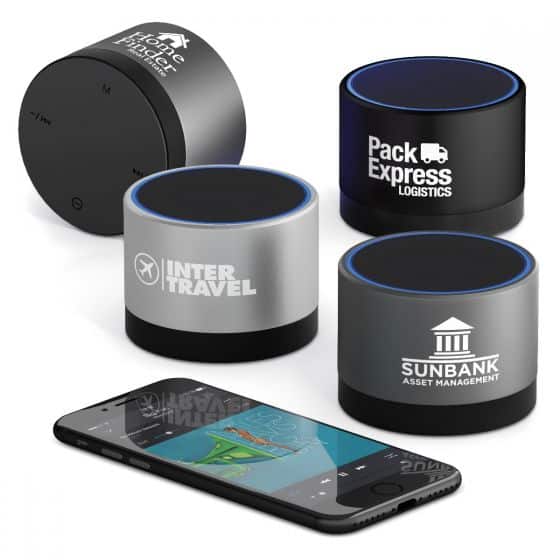 The Moonlight Speaker offers premium quality sound and an elegant chrome design, which enables any logo to 'pop'. The edge of the speaker lights up when in use, adding to its appeal. With over 3 hours of battery life and a Bluetooth range of 10m, the Moonlight Speaker is a uniquely designed promotional gift, which leaves a lasting, luxurious impression on its recipients!

The Fantasy Wireless Charger will work with any smartphone that supports inductive charging. It is designed to charge any modern smartphone using the latest in QI technology. These include the latest iPhone and Samsung models. It also comes with built-in short circuit protection, ensuring the voltage output does not exceed recommended levels. The centre of the Fantasy Wireless Charger can be branded with a full-colour digital print ensuring that any logo or design truly stands out. We also supply inductive charger adaptors, which allow phones with a micro-USB socket to utilise the Fantasy Wireless Charger.
Branded mobile phone accessories give you a perfect marketing opportunity. Your employees and customers use mobile phones, so why not increase brand awareness and give them your full-colour logo and message on really useful mobile accessories?