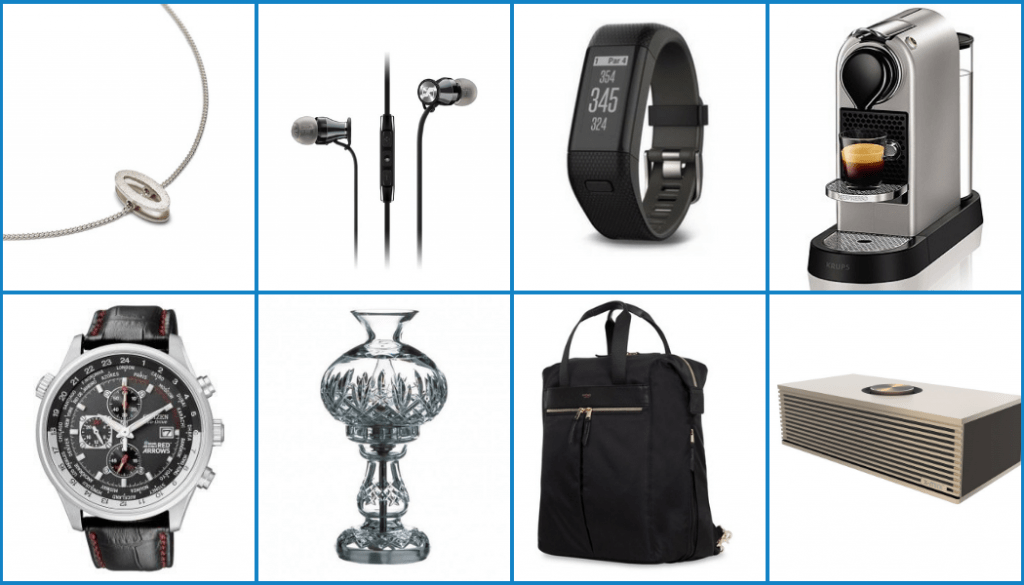 Fun, Funky, Tax-Free Long Service Awards
Celebrating employee years of service are fun occasions filled with fond memories. Sometimes a celebratory event is organised and nearly always a gift is presented to eligible employees.  However, the reaction to the gift can vary from sheer delight to utter disappointment. Why? Everyone's tastes are different!
Choosing an appropriate gift to mark this special occasion is challenging for companies as they wish to offer gifts that are attractive and meaningful to employees and also tax-efficient for the company.
The solution? RewardNet®, the proprietary rewards system from Gift Innovations, makes acknowledging loyal employees a simple, enjoyable and more meaningful experience for everyone. The system allows companies to offer their employees a choice of gifts from popular Irish and International brands. The huge range includes everything from traditional gifts like Waterford Crystal and Citizen Watches to funky gifts such as Cabin Zero luggage and Garmin Sportswear, on their company branded programme. And the added bonus for employers is that gifts are tax-free under Revenue's Long Service Awards Allowance.
Benefits of using RewardNet® for employees
Employees appreciate the wide choice of gifts from Irish and International brands.
The popular points-based system allows employees to select one gift or multiple gifts to the total value of their point's allocation.
Employees are offered great value on well-known premium brands.
RewardNet® is an intuitive and engaging rewards platform for employees to use.
Employees can access their company service award programme from desktop and mobile devices.
There is excitement and anticipation in receiving chosen gifts, especially when employees treat themselves to something they would not normally purchase for themselves.
Tangible Long Service Awards are tax-free, therefore employees need not pay PAYE, PRSI and USC on the value of the award.
Benefits of using RewardNet® for Human Resources
Service award programmes are quickly implemented and Gift Innovations manages the entire process from the awards notifications to delivery.
Your company service award programme is customised and branded to your requirements.
Assurance that employees are offered choice, value and trusted brands in the gift selection.
There is no monetary value associated with the gifts being offered – after all, how can you put a monetary value on so many years of service?
Employees receive the full worth of their Service Award – No unredeemed gift cards or card balances.
Long Service Awards are tax-free only when the awards take the form of tangible gifts. The allowance is €50 for each year of service, starting at 20 years, and every 5 years thereafter.
Gift Innovations offers a transparent solution for service awards with detailed reports on selections made by employees.
If you are planning your employee Service Awards, Please contact us for a demonstration of RewardNet®. Tel: 061 306006 Email: info@giftinnovations.ie