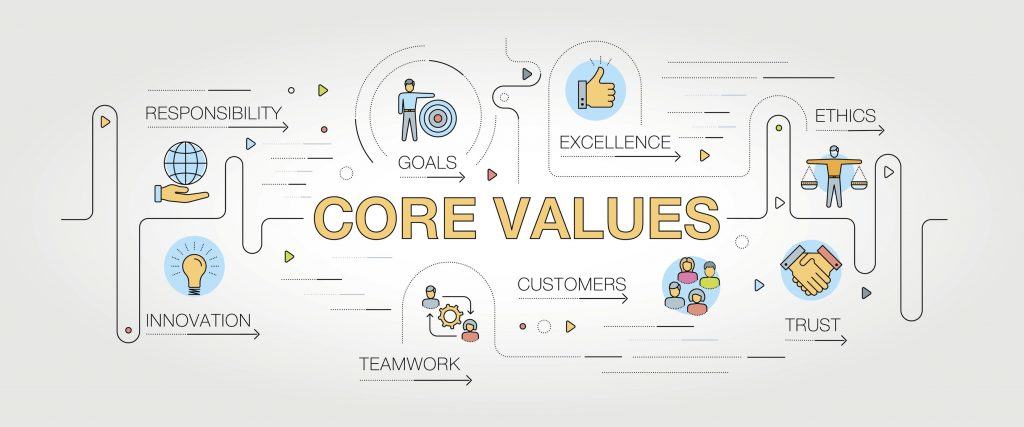 What values do you wish your employees to live and present to others? Are those values clear and apparent throughout your organisation?
One of the easiest ways to demonstrate company values to your employees is to implement an employee recognition programme. Simply put, employees are encouraged to thank and recognise their colleagues for behaviours and actions that support company core values and company objectives.
But what are core values? For Eric Douglas, it is clear: "They should be honest and authentic statements of what's essential to the organization's success".  Eric Douglas 2015: Why core values matter and how to instil them. Douglas goes on to explain that your core values need to be linked to specific behaviours. For example: "customer service can be tied to how quickly employees respond to complaints or requests for information".
So how can you reinforce company values with an employee recognition programme? How do you 'Mind the Gap' between what should be happening in respect of recognition, and what is happening on the ground? Employee rewards alone will not drive core values and behaviours. Organisations need a strategic, highly-engaging recognition programme to go to work for them.
Here are 10 top features of a successful employee recognition programme:
The system should make it easy for managers and peers to give and receive instant recognition. This will be helped by making your company's recognition programme accessible via an app and on multiple operating systems – a basic requirement today.
The system should be highly engaging for users. Consider how we communicate today using social media: you could communicate values to your workforce and leverage company activities using an interesting and intuitive social recognition platform.
The system should help you to get to know your colleagues. Giving employees the option to upload a photo and include some basic information on their personal profile helps them to identify colleagues and supports their on-boarding process.
The system should automatically link recognition to core values and behaviours that support company goals. A system that facilitates endorsements and comments from peers or managers further enhance the recognition experience.
The system should encourage a daily sense of recognition with emphasis on all employees being recognised, across the entire organisation. Employees and/or managers may be assigned a monthly allocation of points to give to their colleagues and/or team members.
The system should support the clear visibility of all recognised employees while also facilitating private recognition messages. Transparency around the recognition that is received is important for fairness and demonstrates that all employees are living company values.
The system should aim to offer rewards and be flexible enough to include products, services and experiences that matter to your employees. Rewards are always attractive but avoid making them an entitlement and use a system that will help manage your budget.
The system should allow real-time reporting of employee engagement levels. This will allow you to measure participation across the organisation and modify your recognition strategy accordingly. Without this, it is difficult to measure ROI.
The system should be fully supported locally. The recognition provider should ensure that your programme is customised to your requirements and provide on-going support. They should offer guidance to get the best use out of the system.
The system should incorporate recognition best practice. Using a proven system supports senior management and HR. It will have a greater chance of delivering quality employee recognition to increase employee engagement.
Take Away
Employee recognition has changed dramatically over the years. Senior management now understands that employee recognition plays an important part in attracting, retaining and engaging employees. It is a good decision to invest in a recognition system – but choose wisely and mind the recognition gap!