Reward programmes
We offer a wide choice of quality reward options in our reward programmes. These rewards are ideal for acknowledging occasions such as years of service, retirements and perfect attendance. Reward programmes are tailored to your needs and accessed by employees using RewardNet®, our customisable rewards platform.

Every-day rewards
For day-to-day recognition, you can offer customised and flexible rewards on your recognition programme via Kudos®. We can help you to create a catalogue of affordable rewards, which include products, services and experiences that matter to your employees. We will advise you on the most suitable rewards and tax-efficient solutions for your recognition programme.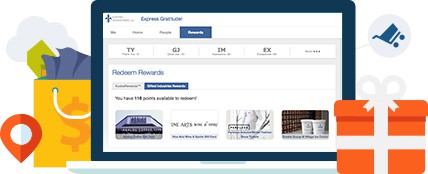 Employee gifts & awards
There are times when the occasion requires something different such as engraved glass awards, branded desktop gifts or even funny employee awards. Gift Innovations has years of experience in sourcing and supplying gifts to companies. Let our team help you find the right gift or choice of gifts to enhance your occasions.